EIA: A Leader in the Indoor Environmental Community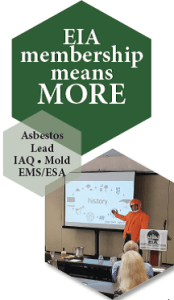 MORE ACCESS TO REGULATORY INFORMATION
EIA Publications and News alerts keep you abreast of ALL that is happening in our industry, including the information you need to keep your business and your clients in compliance.
MORE BUSINESS
Membership in EIA gives you unparalleled networking opportunities.
MORE TIME
Attendance at EIA conference brings you to the best vendors in the industry, saving you hours of research and comparison shopping.
MORE OPPORTUNITIES
Looking for a wider audience for your products and services? Looking to make a job change? EIA membership gives you the opportunity to meet and mingle with thousands of companies around the globe.
MORE EDUCATION
EIA Conference and Seminars bring the world's top experts together in one place to provide you with the best technical information available. EIA publications feature cutting edge information, technology, and the most comprehensive analytical research and most current regulatory information in the industry.
Retired? Email info@eia-usa.org for a special membership discount.
EIA members are companies, organizations and persons involved in the remediation of environmental hazards from buildings and facilities. Our members include the entire vertical spectrum of persons involved in the environmental remediation industry, including contractors, consultants, laboratories, training providers, regulators, equipment suppliers, owners and managers. Click here to learn about our membership categories and their outstanding benefits.
Here is what our members have to say about their participation in EIA:
'What is there about EIA that I like? It's the PEOPLE. The membership and management of EIA are each professional in their own specific disciplines and they bring this professionalism and knowledge to the conference. The opportunity to spend time interacting with these folks brings out an enormous amount of industry information. You will meet new people and make new friends. When you leave the conference, you take along a list of new friends you can communicate with throughout the year. It's all about helping each of us improve our business."
John Barnett
QuanTEM Laboratories, LLC
www.quantem.com
"EIA has provided Eurofins Built Environment the opportunity and platform to promote its expertise and services to increase our brand awareness in the marketplace. In addition to this, EIA has been able to provide valuable information and insight that Eurofins Built Environment uses to stay current with market trends."
Doug Stein
Sales Director- IAQ
www.eurofins.com